8 global packaging trends 2020 and where they're all heading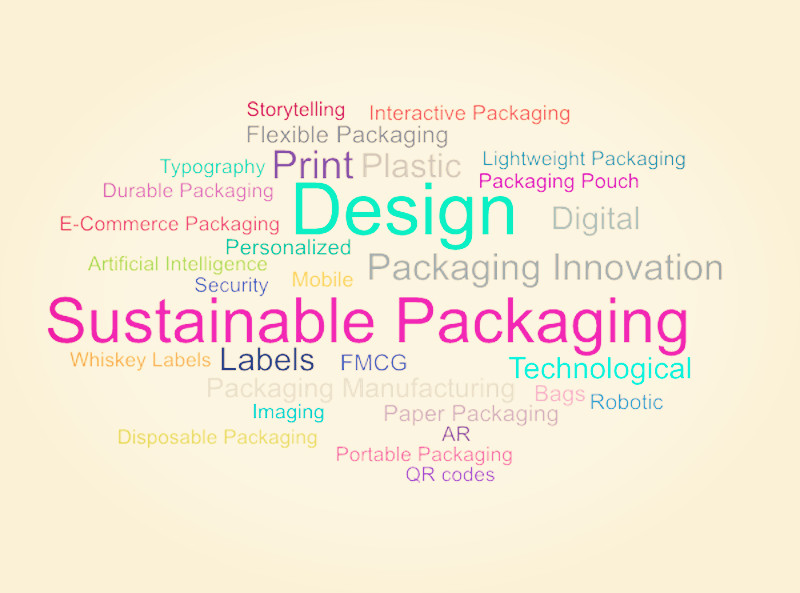 First impressions count, and for many brands, this puts high importance on the product packaging. As with all forms of marketing, it shifts and changes due to customers' tastes and global sentiments—such as the current appetite for sustainable packaging.
Here are eight key trends that brands should be taking note of right now.
1. Bold colors make an impact
Standing out on the shelf is not the only challenge brands face. They also have to stand out from the clutter on e-commerce websites. In response, we're seeing bright shades of yellow, neon colors and metallic sheens being used on packaging.
Ignore this trend at your peril, say the experts. A study showed that consumers make a subconscious decision on a product within less than a minute of seeing it. More than two-thirds said color was one of the main factors they look at when making a purchase.
2. Creativity is key
Packaging is being reconsidered. Its role is not only to protect the product. It has a role as a canvas for creativity and design that will ignite interest in consumers. The focus on this is an attempt to catch the attention of younger shoppers in grocery stores who are more likely to be attracted to this packaging.
3. Sustainable packaging is a priority
Consumers want environmentally friendly packaging, and this is one packaging trend that is here to stay. Most big brands are making efforts to switch to using recycled materials in their packaging, including Coca-Cola. It's been shown that consumers are willing to pay more for products produced by brands that demonstrate a commitment to sustainable practices.
4. Less is more
Minimalist packaging is defined as packaging that has only the necessary information on it. Research shows that consumers tend to trust brands less when the product packaging is filled with information. A more straightforward approach is shown to work with today's shoppers to build trust and authenticity.
5. The past makes a comeback
Vintage labeling may be the opposite of bold colors and contemporary packaging, but it is being shown to be equally popular with consumers. They are drawn to vintage packaging as it engages their cultural memories and easily resonates with them.
For older customers, it's about nostalgia and seeing something that reminds them of their past and their childhoods. For emerging customers (the youth), it can evoke curiosity to explore the past. In these ways, vintage labeling can attract buyers of any age. It is indeed timeless.
6. Transparency means honesty
Transparent food packaging has emerged as a top packaging design trend. Consumers increasingly want to be able to see the actual product they're buying. They want the freedom to gauge how fresh a product is by looking at it, rather than trusting the packaging or ingredients list to tell the story. It is all part of their desire to know the food's journey from the farm to the store. We're seeing glass jars becoming more popular, PET bottles and even transparent plastic "cans."
7. Sell me an experience
Just look at YouTube to see how popular "unboxing" videos are. Consumers get a thrill when they open packaging to reveal their purchase, and this can be exploited by packaging companies in their designs.
It is particularly important for ecommerce brands that don't have the opportunity to engage with customers in real-life stores. Packaging can help create a memorable brand experience for customers that will set them apart from their competitors. Creating a custom packaging experience can include materials that add to the unboxing experience.
Some of the options include:
• Wrapping product in tissue paper. It builds an extra layer of anticipation into the experience of unboxing.
• Sustainable fillers such as biodegradable bubble wrap that highlight a brand's environmental commitments without reducing the experience.
• Stickers are versatile, inexpensive and can easily be branded.
• A personal note or special instructions add vcaualue. Handwritten messages alert customers to the fact that there are real people behind the brand.
• Colorful packaging tape can be used to complement your custom packing.
• A sample or gift can be added as a "thank you" or to introduce a customer to new products.
8. What's your cause?

Cause marketing is a strategy that brands can use to promote their corporate social responsibility actions to promote their products. Socially connected consumers want more from brands than what they can offer materially. They want to know that the company they are investing in wants to better society, not merely increase profits. Whether they are social or environmental issues, packaging provides a platform for the communication of cause marketing.



The bottom line is that the world is emerging from our past throwaway culture, and brands need to adopt new packaging innovations and trends to meet their desires. It's time to embrace packaging as a need rather than simply adding to landfills.